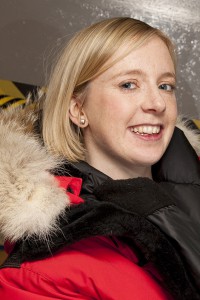 I am Dr Emma Boland, a physical oceanographer, currently working at the British Antarctic Survey where I am part of the NERC-funded ORCHESTRA and SMURPHS projects. I am primarily interested in meso-scale eddy activity in the Polar regions. I also have interests in quasi-geostrophic dynamics, Lagrangian processes and climate science communication. Find out more about my background, my research, take a look at my publications or see what I'm tweeting. Some of my recent media appearances can be listened to/viewed here.
Climate Science Engagement:
I am active in public engagement, regularly taking part in events such as the Cambridge Pint of Science Festival and talking to audiences that range from school children to other scientists on topics of climate science. I have media experience, as a previous British Science Association Media Fellow, as well as appearances on Channel 4 news, local radio and TV. I am fully DBS (CRB) checked.
Header image from NASA's Perpetual Ocean simulation of ECCO2.